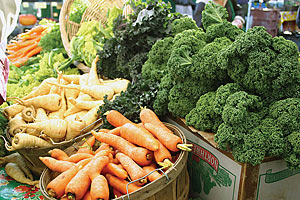 By Kia Armstrong, Sales/Promotions Manager, Nash's Organic Produce
1. Go back to the same farmers' markets or farm stand regularly and get to know the people who are selling their locally-grown veggies, fruits, grains, breads, pasta, etc. Your loyalty may earn you a discount from time to time.
2. One of the keys to strike a deal with farmers is to ask questions. Take the time to ask about buying seconds or purchasing items in bulk. Seconds are perfectly fine to eat but may be misshapen and not as pretty as the #1 quality produce on display.
3. Know what's in
season
so it will be easier to understand the local growing system and what will be least expensive at your neighborhood farm stand or store.
4. Check out a CSA, or Farm Share program. Invest up front in a farm, and receive weekly boxes of seasonal fresh food. Farmers usually give their CSA members an excellent value for their dollar since they appreciate subscribers' support. Many CSAs offer discounted working shares, or payment plans.
5. Walk around the farmers market first before purchasing anything. There are usually several competitors with the same fruits and vegetables, so look at all the produce available and see what the competing prices are.
6. Arrive early at a market for best picks, or leverage closing time for a good deal. Farmers don't want to leave with a full truck. Be careful not to barter too much; farmers are primarily interested in building long-term customer relationships, and they have worked hard to bring their products to market. Try out something like "I see that you have some food left over, and I want to help out. What can you give me for $20?" By initially offering a set amount of money and giving the farmer a choice in what to sell you, the farmer will be inclined to give you both a good deal and the best of what his or her table has to offer.
7. Many farmers sell fresh herbs, vegetables and fruits that you can take home and plant yourself! Consider starting a small box of herbs or some frequently used veggies, such as salad greens (which you can cut and they'll re-grow!)
8. Consider raising your own small animals in your backyard, such as chickens, turkeys, dwarf goats, ducks and rabbits. You can harvest eggs, milk and meat from these animals, ensuring that you know where the food is coming from and that it is healthy.
9. Instead of just car-pooling, consider "cow-pooling." Get together with friends or neighbors to purchase healthy, grass-fed, beef, pork, lamb, etc., from local farmers. Ask questions about how farmers are raising their animals and look for healthy animals that are free of antibiotics or hormones.
10. Many farmers' markets are sponsored by local organizations that need volunteers to help keep them running. Becoming a volunteer at the market will help you get to know the vendors who sell at the market and they will get to know you. Volunteers are often rewarded for their efforts with generous discounts and gifts from the vendors.
11. Bring your favorite farmer or producer a cup of hot coffee, or a taste of something you just whipped up in the kitchen with fresh ingredients. Compliment them if you enjoyed their food, let them know you appreciate their hard work…you may end up saving some money!
12. Inquire at your local DSHS office or Senior Center about
Washington State WIC
and
Senior Nutrition
Programs. You might be eligible to receive free vouchers that are redeemable for fresh fruit and produce at farmers markets.
13. Buy veggies, grains and fruits in bulk with family and friends to save significant money.
14. Offer the farmers more than cash. Farmers are independent and sometimes unconventional. Bartering is second nature to them. A farmer, like anyone else, specializes in a certain trade or skill. If you also have a skill or service that you can offer—web site design, carpentry, tax preparation, art, etc.—a farmer may be willing to trade for your services.
15. Participate in local gleaning or community gardening opportunities. A little donated time can provide a welcome wealth of local food in your life.